Episodes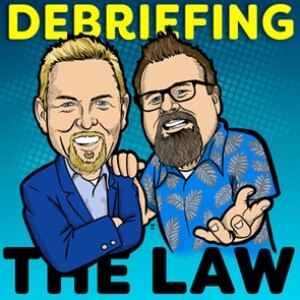 Monday Jun 01, 2020
Monday Jun 01, 2020
Flushgate comes to the Supreme Court, Chatty Clarence Thomas can't be shut-up, and the Supreme Court finally deals with an issue near and dear to everyone's hearts – nuisance robocalls.  Yes, let's put the coronavirus to the side for a bit.  Let's tackle another national menace. Plus Mackenzie Smith and I unpack the Movie Just Mercy in this week's De-Briefing of the Law.
To learn more about about Mackenzie Smith, The Aviator Attorney, click here.
We've transformed all of our continuing legal education courses so they are now available in both webinar and online formats. While we look forward to live events again in the future, we want to provide solutions for the current work environment. If you are an attorney or in the legal profession and need to complete your annual CLE requirements, visit our site Comedian of Law.
Today's episode is sponsored by Digital Directory Management. Be sure to grab your business' complimentary baseline report to see how you are showing up online. Visit http://www.digitaldirectory.management/ today!
As always, if you enjoy our Podcast, please subscribe, leave a rating or review on your favorite streaming service and follow us on social media to help others find the show.