Episodes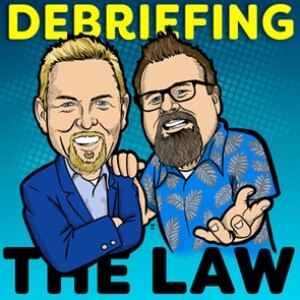 Saturday Jun 25, 2022
Saturday Jun 25, 2022
In today's podcast, Joel and Chris review the big week at the Supreme Court. Additionally, Joel interviews Danny Karon, Your Lovable Lawyer, about lawyer wellness. 
First, Joel and Chris review the Second Amendment and the 6-3 ruling that protected the right to bear arms in New York State Rifle & Pistol Association v. Bruen. Next in Carson v. Makin, the Court rules that public funding can be used at religious schools. Joel and Chris review the implications. 
Next, Joel talks with Danny Karon about his legal career journey and how lawyers can be problem-solvers that genuinely serve people. Danny explains the concept of legal wellness and his mission to make justice and legal insight more accessible. He reviews how his work with Your Lovable Lawyer can educate people on both personal legal needs and some of the prominent legal issues of the last couple years like vaccine law and Depp v. Heard. 
Lastly, in Courtroom Quarterback (beginning at 1:23:00), Joel and Chris talk recent sports news including Roger Goodell's recent drama with Barstool founder. 
To find Danny Karon, see here: