Episodes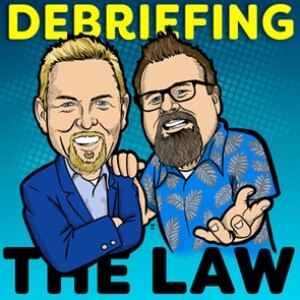 Friday Dec 10, 2021
Friday Dec 10, 2021
In today's Debriefing of the Law, Joel and Chris review the week's major legal news. First, they go over the Jussie Smollett case. They discuss his charges, hate crimes, and the role of a criminal defense attorney. They also give status updates on the Holmes and Maxwell trials. 
Next, they review the Supreme Court arguments heard this week. First up is the Carson v. Mankin case which deals with religious rights and whether a state violates constitutional clauses by not allowing students to direct government student aid money to a religious school. They review the Establishment Clause and the entanglement of state and religion. Next, they review Shinn v. Ramirez. This cases deals with the death penalty and the policy around habeas relief if there were flaws within the original trial.
In Courtroom Quarterback (beginning at 33:30), Joel and Chris review the playoff rankings. They talk about bowl games and coaches changing teams. They analyze a play in the Pittsburgh vs. Wake Forest game involving a fake slide. Lastly, they make their predictions for the upcoming games.