Episodes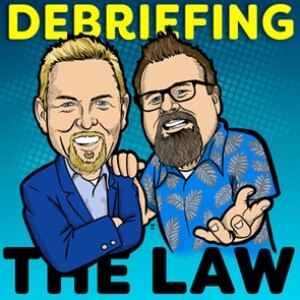 Friday Dec 03, 2021
Friday Dec 03, 2021
In this week's De-Briefing the Law, Joel and Chris go over the major legal news stories of the week from Ghislaine Maxwell to Jussie Smollett to Dobbs v. Jackson. They review the recent trial news and evidence against Maxwell. They give an overview of Smollett's staged crime as a publicity stunt and his charges for lying to the police. Next, they discuss Elizabeth Holmes' fraud trial and whether her co-founder had manipulated her. 
Joel and Chris review the Supreme Court case Dobbs v. Jackson Women's Health Organization which deals with abortion and whether Roe v. Wade should be overturned. They go over various issues like viability, bodily autonomy, and how pro-life policy should include a more holistic approach. Additionally, this discuss the role of the Court, its power, and whether abortion would be a constitutional right.
In Courtroom Quarterback (beginning 48:05), Joel and Chris talk college football, coaches Kelly and Riley shifting teams, and the SEC. Lastly, they make their picks for the upcoming games.