Episodes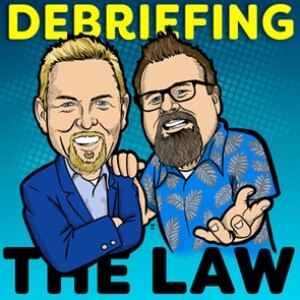 Friday Sep 10, 2021
Friday Sep 10, 2021
Comedian of Law is back after a summer break! Joel Oster and Mackenzie Smith kick off the episode with a story involving a spaghetti-covered domestic dispute. They talk about worst day in the courtroom in light of Elon Musk's lawyer vomiting in the jury box. Joel and Mackenzie talk Supreme Court, the new Texas abortion law, and what to expect moving forward. They also give an update on #FreeBritney.
This episode also features the first edition of Courtroom Quarterback, a segment in which Joel and Chris Marohn dig into all things sports and law. The segment starts at 46:30 if you want to jump right to it. Today, Joel and Chris share what they are looking forward to most this NFL season. They also review the Deshaun Watson case and how vaccination impacts player's pay.
For more comedic takes on the law, follow us:
Twitter: https://twitter.com/comedianoflaw
Instagram: https://www.instagram.com/comedian_of...
Facebook:https://www.facebook.com/comedianoflaw
We offer comedic Continuing Legal Education courses: 
Our Blog: